Decking: How to Install Composite Deck Boards
Decking: How to Install Composite Deck Boards
DIY Deck Plans
Wed, 05/09/2012 - 16:33
Composite deck boards, or maintenance free decking materials, vary in expansion and contraction and use many different fasteners. Be sure to check the manufacturer specifications before beginning installation. If the decking has not been installed properly (according to the manufacturer instructions) the warranty may not be honored.
Composite Decking Installation Tips:
Before installing the maintenance free material, lay it flat on the deck surface for 30 minutes or longer (depending on the ambient temperature). This will help to eliminate any shapes or bends that may have formed in the plastic composite.
Be sure to allow for adequate expansion and contraction, especially when building in the fall and winter. Each manufacturer gives detailed information on joint spacing for different temperatures and material lengths.
Spacing of Composite Deck Boards
This varies from product to product. Some manufactures supply spacers and some product spacing is set by the fastening clip system supplied to secure the product.
Proper spacing is required for ventilation and expansion/ contraction. Check manufactures specification for recommended spacing
Securing the Deck Boards
Deck boards are secured with nails or screws from the top, bottom or between the deck boards. With so many options available please refer to manufactures recommendations and be familiar with different hidden fastener systems.
Cutting off Decking
Always leave the deck boards extending past the outside joist when lying decking. Chalk a line once all the decking is down and cut with a skill saw. When cutting off maintenance free decking, cut off the deck boards when all of the decking is complete.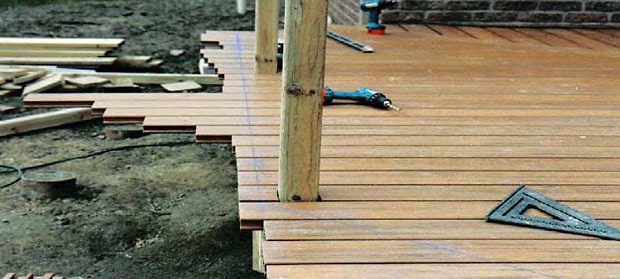 It is important to cut off maintenance free all at once due to the expansion and contraction of the deck boards. This will give a more consistent straight line.