Decking: How to Install Shadoe® Track Hidden Fasteners
Decking: How to Install Shadoe® Track Hidden Fasteners
DIY Deck Plans
Wed, 05/09/2012 - 17:05
Installing Shadoe® Track is a 3 step process:
Screw Shadoe® Track to the top of each joist using "Tru-Hold" screws. The track should be flush with the top of the joist, and flat along the side of the joist. Adjacent joists should have the joints between the track pieces staggered.
Install the deck boards one at a time.
Kneel on top of the deck board and reach under the deck to screw up from below the deck, through the track, into the deck board. The track is designed to accommodate at least 2 screws per deck board. A high deck can be installed from below, but a second person should stand on the boards as they are attached to ensure a tight fit as the screws are installed.
For easier installation, install Shadoe® Track on right side of joists, facing the house, and towards the inside of the deck for the outside joist.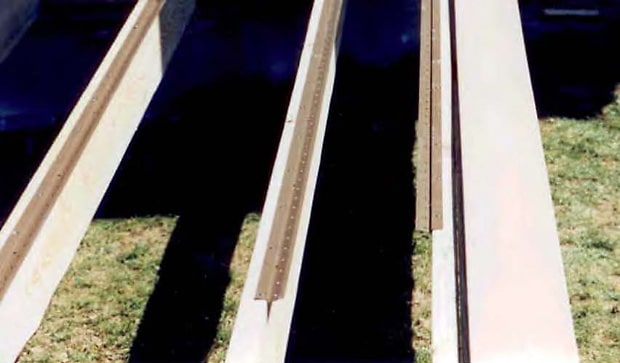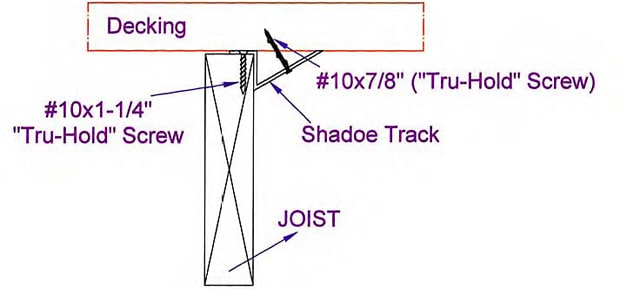 Do not put Shadoe® Track where rail posts are to be installed.
Leave off the front faceplate until the last board is on to be able to reach under the deck or step.
Install the joist blockings lower to allow for the Shadoe® Track.
When installing a perimeter board secure a 2x4 spacer to the bottom of the deck board. Screw the 2x4 through the outside joist and spacer/boarder joist.
Do not put Shadoe® Track where rail or privacy screen posts will be installed. A minimum of 3 screws per board are to be installed through the track into the bottom side of the board.
When fastening into maintenance free materials full thread screws must be used.
When installing Shadoe® Track at a joint in the decking, install a short piece of Shadoe® Track on the opposite side of the full length to provide additional support to the joint.