How to Block Your Deck Joists
How to Block Your Deck Joists
DIY Deck Plans
Fri, 04/13/2012 - 17:32
Blocks cut from the same material as your joists should be installed at regular intervals, perpendicular to the length of the joists. They help to stiffen the deck's frame and prevent joists from moving or twisting as the lumber expands and contracts.
Pro Tip
Cut blocks for inside joists all to the same length, 14½ inches. This aligns the joists with perfect spacing. Outside joists may not be spaced at 16"oc or may need to adjust to get the proper fit for decking.

Leave outside joists for last and install blocking from underneath. On a low deck, where blocking cannot be installed from underneath, stretch a string from the house to the outside edge along each outside joint for a reference. Cut blocking to fit so that joist stays aligned with the string.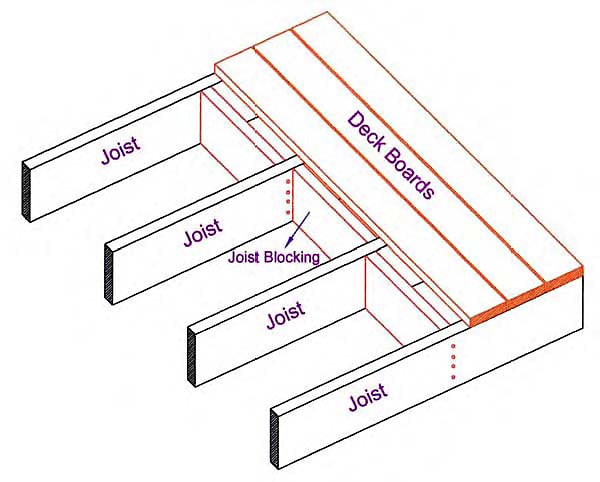 When using Shadoe Track or joist cap systems, use your miter saw to nip the top corners of each piece of blocking to allow for the overlap of the fastening system. Another option is to cut blocks down ½" on a table saw, so that they are ½" lower on the top edge, but still fit level on the bottom.
High Decks
Taller decks are often visible from below. Many of them even have outdoor living space underneath. So, it is important to consider how your blocking will be installed if it is visible from below. You'll want to choose a pattern that is pleasing to the eye.
1) Alternating (but close)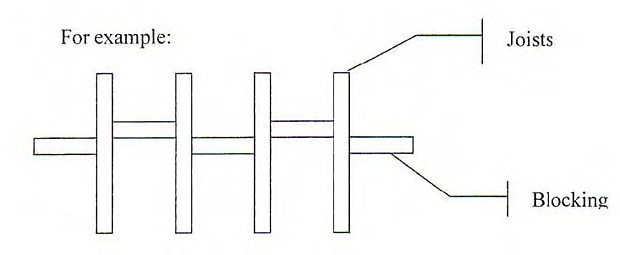 This is similar to regular blocking; however keep the boards closer together. This provides a symmetrical pattern, while also making installation simpler, since fasteners can be driven into the end of each block through the joists, rather than toe nailing.
2) Straight Line
Straight line blocking gives the neatest appearance, but is the most difficult to install. If the substructure will be seen over a patio or lower deck, this method is the most desirable. Each piece of blocking gets fastened straight into the first end, while the opposite end must be toe nailed, since there will be blocking on the other side of the joist, preventing straight access to the end.
With Shadoe Track or Joist Cap
Both of these products over hang along the top edge of the joists. This space must be accounted for while blocking. One way is to just lower the height of the blocking. This way works well for low decks, or decks that will not be viewed from underneath.
The other method is to cut a light angle off the corners of the end edges of the boards, or rip 1 inch or so off the top of the blocking board. This allows the fastener system to be installed flush, while still maintaining a clean appearance from below.