How to Frame Cut Corners
How to Frame Cut Corners
DIY Deck Plans
Fri, 04/13/2012 - 18:33
Outside Faceplates for 45° Cut Corners
When a 45° corner is required in the outside edge of your deck, you will need to install the faceplate at that corner on a 45° angle. To do this, the two faceplate pieces running into this corner will be shortened and cut at a 45° miter. If this corner is included in your deck plan, the length of these pieces will be indicated. If not, simply measure from the corner the distance you want your 45° corner to cut into the deck, along both angles of the faceplates where they meet at the corner.
Mark each faceplate at this point. A straight line between these two equidistant points will lie at 45° to the original faceplates. Cut each faceplate at this mark on a 45°, miter so that the long point of the miter is to the inside of the faceplate. Measure from outside to outside of these miter cuts with the faceplates in their original positions. Cut your corner piece that length, with a 45° inside miter at either end. The point of the miter should match up with the faceplate on each side.
Fasten your corner by driving nails or screws through the mitered ends of the corner piece, into the ends of the faceplate on either side. You should predrill mitered ends for fasteners to prevent the thin material from splitting. If the 45° corner falls on the toe kick of a step riser, or at a change in level on the deck and will be exposed in the finished deck, use a cedar (or composite) faceplate for the corner piece to match your decking.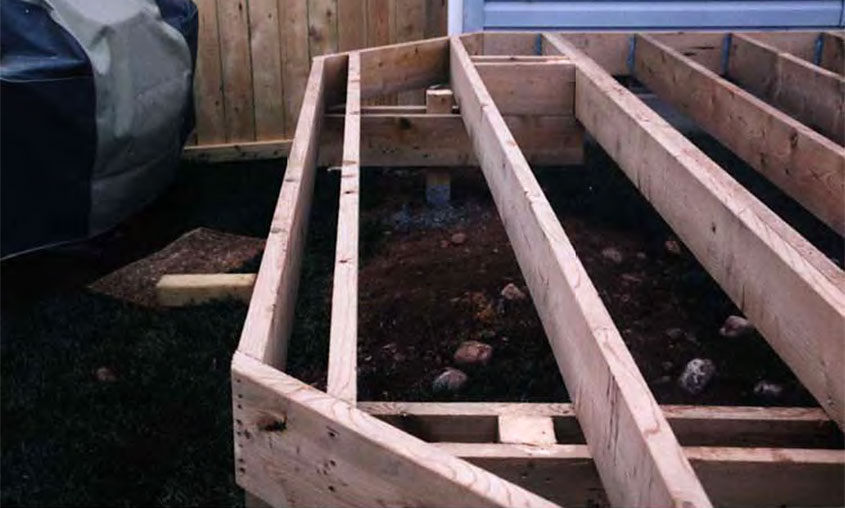 Supporting Cut Corners Extending Past the House Edge
When extending cut corners past a house corner, or anywhere that adequate support is not available, a single footing can be added to help support that corner. Install the 4x4 post on a footing, as you did with your other footings, positioned as seen in the photo. Install a short, double beam attached to both faces of the new support, so that the end extends under the faceplate and the nearest joist, which should be doubled for added strength.
Install a 4x4 support block against the double joist. Attach the double beam to this block to add support at the inside end of the beam, as pictured. This will strengthen the cantilevered beam to make the corner more rigid.