Custom Deck Framing
Custom Deck Framing
DIY Deck Plans
Tue, 05/01/2012 - 14:57
Setting Deck Frame on an Angle
Many home owners prefer to have the decking installed on a 45° angle to the house, so that the lines create a more interesting pattern. Rather that set your decking on a 45° angle to the frame, the frame itself can be constructed on the 45° angle. This may seem more complicated, but there are far fewer joists than decking boards. Adjusting the frame saves time and simplifies the process.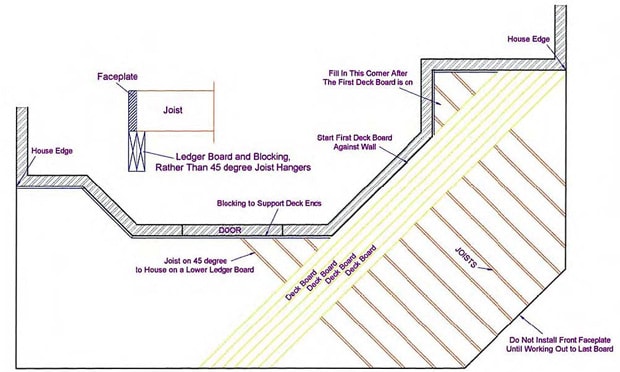 If you are using fastener clips, or any hidden fastening system, this is the only option for setting the decking on an angle to the house. The fasteners require a 90° angle between decking and frame, which can only be had if the framing is angled.
There is no requirement of code or construction that requires angled decking. The only reason to do it is aesthetic. Be sure you weigh the additional cost in time to set up the frame and materials, since 45° end cuts will create more waste. More posts may also be required to properly support the frame.
When setting the frame at an angle, joist hangers cannot be used to attach the joists to the ledger, due to the angle. The ledger in installed with a double thick support plate underneath (as described in our section on installing ledgers on stone or stucco walls) that the ends of the joists rest on top of. The mitered end is then fastened to the ledger.
Framing Around a Tree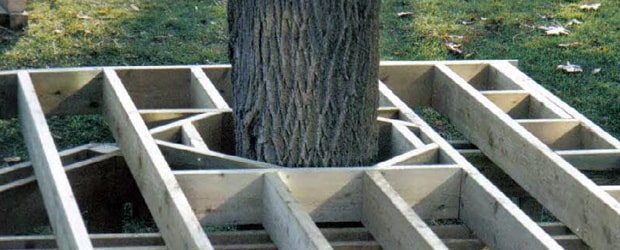 Trees add shade and interest to decks and large trees are typically saved if they are healthy. You will need to build your frame to support the ends of the decking slightly cantilevered up against the tree. The frame should be left 4 to 6" from the tree for movement and growth. The decking can be cut to fit as close as 1" from the tree. Additional trim can be installed to cover this gap as well.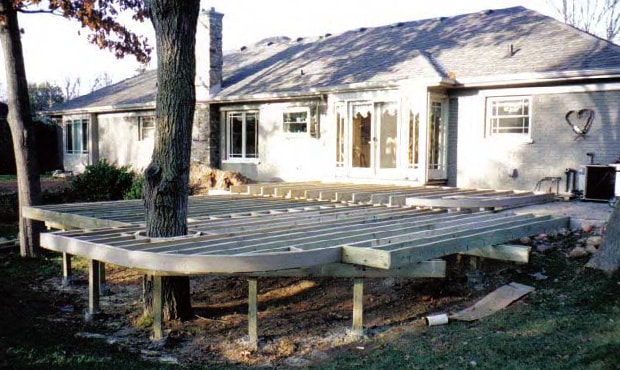 Free Standing Deck Frames
Free standing frames are built using similar techniques and framing patterns. Instead of a ledger board, the edge against the house is supported by a rim joist. Additional posts are used to compensate for the loss of stability represented by the lack of a ledger board.
Check your local building codes for any changes in construction. The regulation on free standing decks is often not as rigorous, since they do not affect the house. In areas of new construction, you may have to allow time for fill dirt to settle, or use a soil tamper to pack the earth prior to free standing construction.