How to Install Joist Cap
How to Install Joist Cap
DIY Deck Plans
Thu, 05/03/2012 - 15:59
Many home owners are under the false impression that products such as composite decking boards can extend the life of their deck indefinitely. One reason this is inaccurate is that, while the deck boards may not deteriorate due to weathering, unless they choose an alternative material, the wooden frame beneath will.
By using pressure treated lumber, most decks will last for two decades, or more, with proper treatment, but over time the lumber will still suffer rot. One way to slow this process is through the installation of joist cap.
Joist cap is a thin metal cap, similar to roof edge cap, with a galvanized finish that is highly resistant to moisture, which tends to build up in the gaps between deck boards on top of the joists.
The metal strips clip over the top of a standard 2x joist, providing a complete cover for the top edge. There are both single width and double width joist caps, for those areas where a joist is doubled for strength.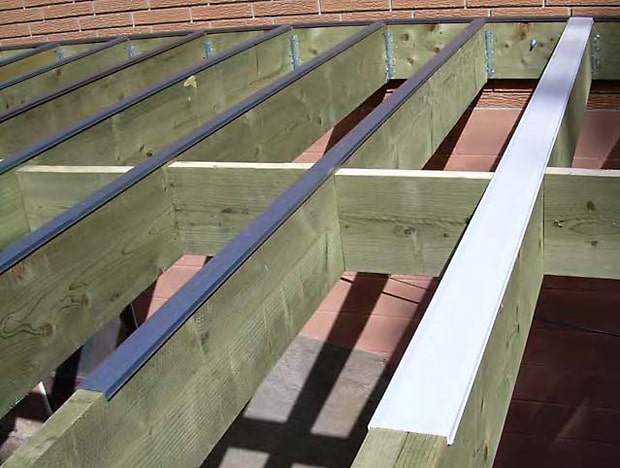 Since the edge of joist cap overlaps the face of the joist, allowances will have to be made at joints where the joist meets the ledger board, or blocking. This can be done by trimming the cap with a pair of tin snips at each junction, or you can use one of the methods we outlined in the section on joist installation to adjust the adjoining members to compensate.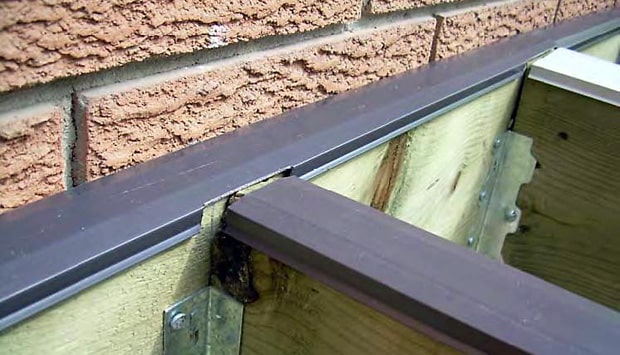 A rugged joint tape is used to hold the joist cap together at joints. This also seals the gap between the pieces, which can allow water underneath the cap, increasing the problem, since water under the cap cannot easily dry out.
If you are using Shadoe ® Track, install the joist cap prior to Shadoe® Track installation. Track is then hand nailed through the cap using galvanized nails. Hand nailing is the best method for accurate installation versus using a nail gun, which frequently causes misalignment.
When decking is to be angled, install sections of Shadoe® Track between joists along the top of the ledger board for reinforcement.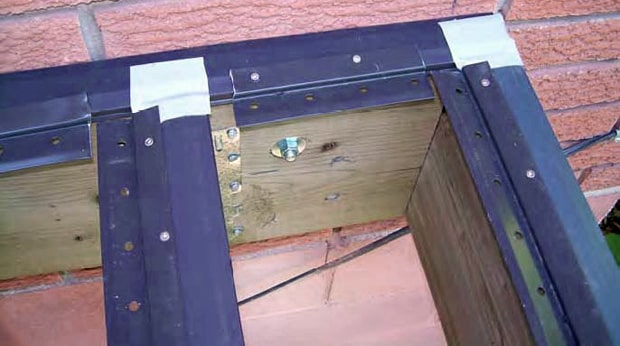 On double joists, one piece of Shadoe® Track is installed along each edge, just as you would for a single joist.